Artesania Latina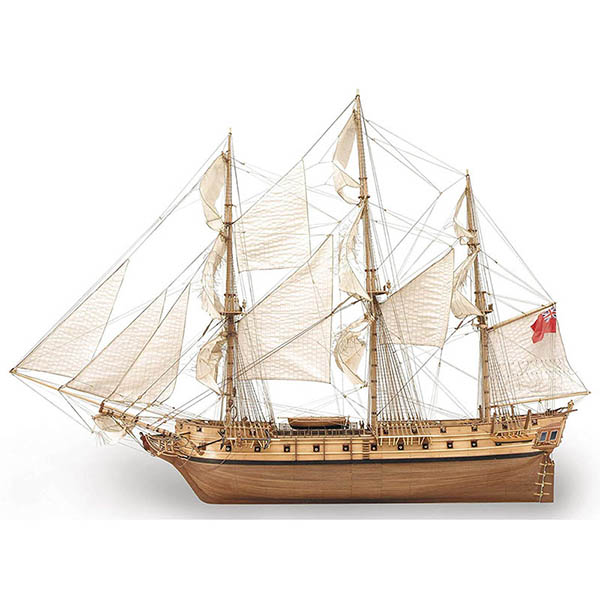 ARTESANIA LATINA AL22910 "HMS SURPRISE" FROM MOVIE "MASTER AND COMMANDER: THE FAR SIDE OF THE WORLD"
The model ship kits made by Artesania Latina are produced in Barcelona, Spain, and are respected by hobbyists worldwide as among the most detailed and historically accurate ship kits. Artesania Latina ships are created from the exact plans of the real historical ships, and employ wood from real wood planks. The result is a collection of the ultimate wooden ship kits for the amateur modeler.
Modelers used to building miniature planes and cars from plastic materials will be impressed by the high-quality materials used for Artesania Latina ships. Ship parts are created from such substantive and beautiful woods as walnut, beech, mahogany, and others. Laser-cut ornamentation, fittings, and ship lines add to the realistic feel of the completed ships.
Artesania Latina ships cover nearly every historical time period and type of ship. You can find accurate Viking ships, English whaling boats, Mississippi steam ships, American colonial ships, and much more. In addition, you can recreate famous historical ships, such as the H. M. S. Endeavour, the H. M. S. Bounty, the U. S. Constellation, and more.
Anyone interested in history, engineering, or seamanship will enjoy these historically accurate Artesania Latina ships. All you need to produce your own scale-model historical ship is an Artesania Latina ship kit and a few accessories, such as basic modeling tools, glue, and paint.
Artesania Latina ships are recommended for ages 10 years and older, as they require a significant attention to detail to construct. For those new to model-building, Artesania Latina offers a small line of easy ship kits.
These exclusive models are the best of their kind and might take up to 400 hours to finish them as they are made from exact plans and replicas of the real ships, using wood that is cut from wood planks and molded to perfection.
Models available for all types of modelers, recommended starting at 10 years old and up.
Artesania Latina
model ship kits are known world wide to produce high quality historic scale model ship kits. Their kits contain everything you need to build the kit except tools, glue and paint.
High quality woods such as Walnut, Beech, Mahogany, Tanganyka, and more are used . All the ornamentation, fittings, and rigging line are standard items in every kit.
Many parts are laser cut to save you time and effort. A full set of plans and instructions are included in every kit, in addition many kits include a color pictorial to assist in assembly.
Artesania Latina is the first of the European manufacturers to produce easy-to-build, generously-sized models, can be credited for popularizing ship model building world-wide.
Artesania Latina kits contain large, easy-to-follow plans and simplified pictorial instructions that illustrate every phase of construction.
Artesania Latina kits represent a good value, and assure an impressive display model almost anyone can complete.
If you like to see the progress of building one of these kits (advanced kit AL22860 1/90 SJ NEPOMUCENO ) from start to end, please visit this LINK. It is just incredible what you can get from one Artesania Latina kit. See to believe.
To display all items from Artesania Latina click HERE

AL19001 1/75 VIKING

AL19002 PALMA NOVA

DISCONTINUED


AL19004 BOUNTY JOLLY

AL19009 CADAQUES

AL19010 SAINT MALO

AL19014 SANTISIMA TRINIDAD

AL19015 ENDEAVOUR LONGBOAT

AL19016 TITANIC BOAT

AL19017 LA PROVENCALE

DISCONTINUED


AL19018 Providence New England's Whale Boat

AL19020 HMS Victory Lord Nelson's Long Boat

AL20100 MARE NOSTRUM

AL20145 BREMEN KUTTER

AL20201 1/50 AMSTERDAM

AL20203 HELLEN R/C
SUITABLE FOR RADIO CONTROL

AL20205 Hamburg R/C Ship Model Kit

AL20415 1/50 SANSON

AL20505 1/80 MISSISSIPPI

AL22101 1/75 VIKING PLUS

AL22110 1/50 SWIFT

AL22114 SANTISIMA TRINIDAD

AL22135 1/41 VIRGINIA AMERICAN

AL22150 1/50 PRINCIPE DE ASTURIAS

AL22170 MARIE JEANNE

AL22180 JOLIE BRISE

AL22190 La Calanaise

AL22251 Gorch Easy Kit

AL22254 1/250 SAGRES

AL22299 JS EL CANO EASY KIT

DISCONTINUED


AL222406 LA TOULONNAISE

AL22410 1/65 A NINA

AL22411 1/65 SANTA MARIA

AL22412 1/65 LA PINTA

AL22417 1/56 HMS SUPPLY

DISCONTINUED


AL22419 1/60 MISTRAL GOLETA

AL22445 BREMEN

DISCONTINUED


AL22451 1/64 MAYFLOWER

AL22452 1/90 SAN FRANCISCO

AL22453 Bluenose II Ship Model Kit

AL22516 1/60 ENDEAVOR.

AL22517 1/89 HERMIONE LA FAYETTE

AL22611 SANTA MARIA W/TOOLS

AL22800 CUTTY SHARK

AL22805 MISSISSIPPI W/TOOLS

AL22810 1/48 BOUNTY

AL22840 1/110 JS ELCANO

AL22850 US CONSTELLATION 1/85

AL22852 SAN FRANCISCO II

AL22860 1/90 SJ NEPOMUCENO

AL22900 HMS VICTORY

AL22905 X66 SANTA ANA

AL22910 SURPRISE 1796
SPECIAL WOOD ITEMS

AL20330 San Francisco Powell Street Cable

AL20340 Stage Coach 1848

For complete list, please check Artesania Latina here.

| | |
| --- | --- |
| | |
| | |
| | |
| | |
| | |
| | |
| | DISCONTINUED |
| DISCONTINUED | |
| | |
| | |
| | |
| | |
| Check Artesania Latina HERE | |
| | |