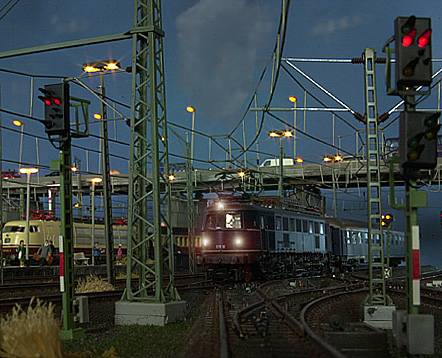 At daylight


At Night time


Lighted Vehicles


Not always cheap means the worst.
Here is the example of this German Manufacturer, who can make the best model trains signals and model trains Catenary systems on the market for any layout.
VIESSMANN also produces several model trains street lights and scale vehicles with electronics to turn on lights or make them to blink, such us Fire Engines or Police/Emergency cars.
Now, NOBODY makes signals of the quality of these and so easy to install in any layout, that you will be amassed and you will ask: why I did not get these Viessmann signals before?
VIESSMANN has a full assortment of model trains signals for HO, TT, N and Z gauge, single arms, double arms, lights, etc from different Countries, so you can find a replica of any signal used by the SBB, DB, OBB or even older such K.Bay. St.
Viessmann Signals with arms work in slow motion, so they go from "stop" to "go" slowly and not hitting hard in one fast movement as other brands do. These are real replicas of the real thing.
Viessmann Light signals, change from one color to an other in a smooth transition fading from one color to to a brighter new one, LED free maintenance so no problems with burned bulbs or high heat.
The realistic view and appearance of the Viessmann Catenary system is second to none. Easy to install with a very large assortment of all kind of pieces such as wires, poles, towers, cross spans, multiple track supports, etc., There is nothing this catenaries envy from any other Brand and we challenge anyone to do it this fast and precise as with the Viessmann system.
FORGET THE DINOSAURS. USE VIESSMANN SIGNALS AND CATENARY PLUS DIGITAL COMPONENTS FOR YOUR LAYOUT, AC OR DC.
All kind of electronics are also on their line of products, including blinking crossing signs, blinking automobiles or trucks, etc.
Something to take in count, is their large assortment of digital decoders and relays that can substitute those prehistoric Marklin devices with brand new technology 100% Marklin Digital or DCC compatible. Decoders to replace 74460 for turnouts, K83 or K84 and many many more.
We think that one good investment might be their Catalog for $ 9.00 freight included in USA (German/English language) also available in CD.

If you want to know EVERYTHING about signals, we recommend this LINK. It contains the most complete information about signals that anyone can imagine. You will be opening a new page out of our web, but it is well worth, when you have time, to take a look at this immense compendium of information.
But don't miss THIS ONE, it is our 1st. choice to learn about how signals work.