Micro Ducted Fan Airplane

EP JET Illusion DF45 Kyosho 10111BLB Blue version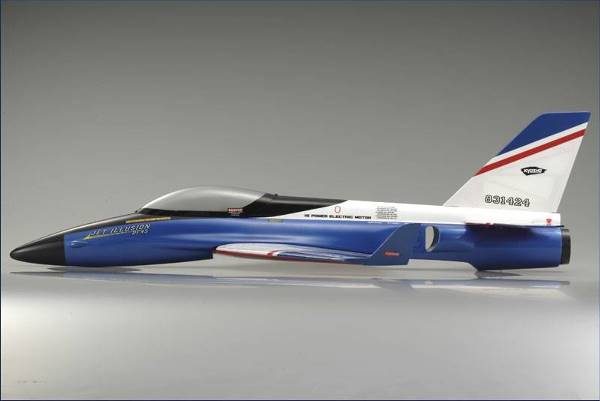 The dream of electric ducted fan flight has now come true.
Powerful flight in a convenient size !
This high performance ducted fan airplane proves sophisticated high-tech mechanics can be easy and fun to use. KYOSHO's many years of ducted fan airplane design experience and the latest brushless motor technology launches a new era in flight performance. The 300g of ultra-lightweight kit with beautifully fiberglass fuselage contains a built-in micro ducted fan unit that delivers awesome propulsion to fly exciting stunts such as loops and rolls. This almost fully assembled airplane requires only a few steps to complete assembly and linkage setup so you can experience the thrill of realistic jet flight
Brushless motor and fan combine in a one-piece high-efficiency fan unit that produces 270g of thrust.
One-piece shroud's brushless motor generates 50,000 RPM of pulling power.
Compact size of the ducted fan unit fits neatly inside the sharp shape of the fuselage.
11.1V-700mAh lithium polymer battery produces more than enough power (not included).
One-piece joined main wing and covered balsa tail wing realize excellent controllability.
ARF kit only requires installation of the ducted fan unit and linkage setup to complete.
Intermediate level flyers should have no difficulty.
Required for operation
R/C System / EP 4ch Transmitter, 2 servos, receiver

Controller / ESC Sky victory BLS25

Battery / 11.1V-700mAh lithium polymer battery
Special charger for Li-Po battery
| | |
| --- | --- |
| Length | 635mm |
| Width | 600mm |
| Weight | 300g (approx.) |
| Wing Area | 8.5dm2 |
| R/C System | EP 4ch Trancemitter, 2 servos, receiver(Sold Separately) |
| Thrust | 270g/50,000r.p.m. |
To order Kyosho 10111BLB click HERE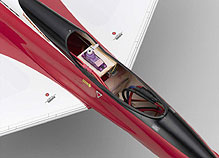 Removable canopy (with screw) allows fast battery changes and easy access to servo linkages.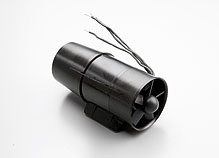 One-piece motor case and fan. Uniquely designed fixed stator blades and back cone produce high thrust despite their small size.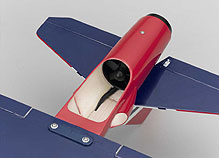 Rear fuselage features built-in lightweight ducted fan unit. Exquisitely designed air intakes contribute greatly to the high thrust generated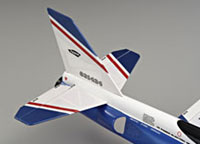 Balsa rib tail wing is pre-covered in film. Simply fix to the fuselage to complete assembly. 3-channels for elevator, aileron and motor control.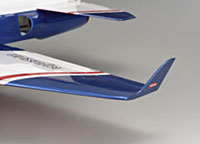 Winglets on main wing produce a lift drag ratio to match the large aspect ratio of the main wing. Difficult to stall and realizes stable flight.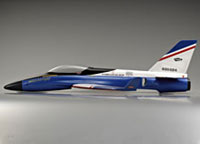 Newly developed factory assembled FRP fuselage is both lightweight and strong. Stunning W-curve is beautifully finished in vivid coloring
Click on logos to get Brand pages