EP JET mirage DF45
EP JET MIRAGE DF45 Kyosho 10115B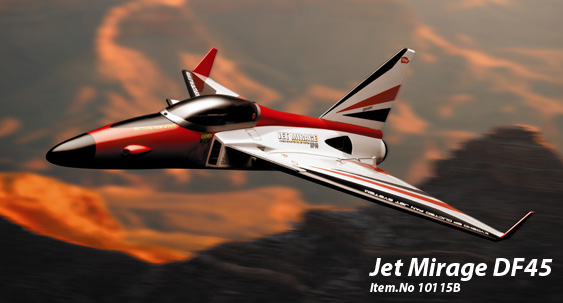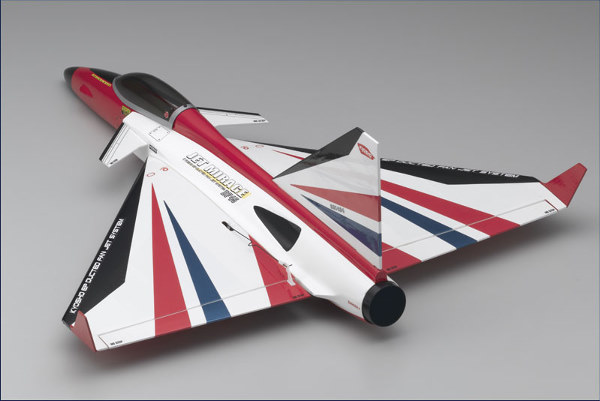 Setting new standards in micro ducted fans jets!
The DF45 series features a specially designed ducted fan unit the is literally built around a brushless motor. Building the fan unit around the brushless motor minimizes weight and maximizes thrust, resulting in nearly a 1-to-1 thrust to weight ratio. The motor produces approximately 50,000 rpm in bench tests, and more in the air - these things scream like a turbine engine.
The fuselage is hand-laid, ultra-light fiberglass construction with balsa and ply construction in the wings and control surfaces. The fuselage is also hand painted for pest possible finish. Large intakes are featured to ensure that the powerful fan unit doesn't starve for air. As an ARF kit, much of the airframe assembly is already complete. Minor final assembly and installation of the electronics are all that's required to get flying.
The Mirage version of the DF45 features a delta wing, much like that of the full size Mirage fighter jet. The delta wing improves the glide ratio and increases the stability, so this bullet is a little easier to control. This unique wing configuration features "elevons," which is combined elevators and ailerons. The delta wing also benefits from winglets, which reduce stall and increase lift. Finally, canards are installed near the cockpit to increase stability.
Included:
45mm ducted fan unit (one-piece fan unit and brushless motor)
Required for operation:
4channel transmitter, 2 servos, receiver

Brushless motor controller (min. 25A)

11.1V-700~910mAh lithium polymer battery

Special charger for Li-Po battery

Specifications:
Length:
24.61 in. (625mm)
Wingspan:
20.47 in. (520mm)
Approx. weight:
12 oz. (340g)
Wing area:
147.25 sq. in. (9.5dm2)
Wing loading:
11.73 oz./sq. ft. (35.8g/dm2)
To order Kyosho 10115B click HERE