Model Trains


No.10142B
Spree Sports M36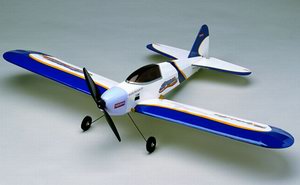 The 380 motor and gear reduction unit provide plenty of power to pull the plane skyward with ease and for light stunts. However, stability and easy control also makes this the perfect introduction to low-wing flight.

With Kyosho's renown quality in factory-assembled kits, all the work including film covering has been completed. Simply install the linkages and radio and you can take to the skies. If you are looking for a good intro into electric low wing flying, look no further than the Spree Sports!

SKU: 10204BL (Blue)
SKU: 10204RB (Red)

Factory-assembled main components including balsa frame covered in colored film.
Excellent stability in a 2 channel light plane with performance to spare as your skill level increases.
Motor, gear reduction unit, main wing and servo mount inside fuselage are all assembled/installed.
Equipped with installed guide for elevator and rudder linkages. Also includes linkage parts.
Built to perform with 8.4V600 (Ni-Cd) - 1100mAh (Nickel Hydride), 9.6V battery packs.
Natural stability and moderate control characteristics makes this a perfect introductory low-wing plane.
Specifications
Length:
700mm
Wing Span:
996mm
Total Area:
Approx. 600g to 700g
Wing Area:
17.6dmē
Wing Loading:
approx. 34 - 39g/dmē
Motor:
380 Class
Battery:
8.4V600-1100mAh Nicd Battery
Radio:
2-3 ch, 2 servo + 1 speedo (sold separately)
To order Kyosho 10204B Blue version
To order Kyosho 10204RB Red version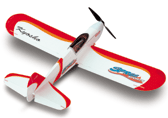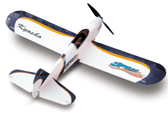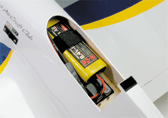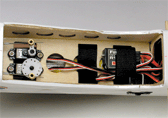 Click on logos to get Brand pages