Flip 3D


No.11141FB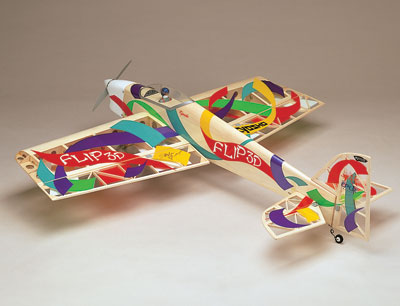 Original design by F3A World Champion Christophe Paysant-Le-Roux is simply beyond the ordinary. Solid, with an aspect ratio holding a large front-end radius, the full-span ailerons approach giant proportions to make up almost 1/3 of the wing cord on the short main wings. The rudder forms most of the vertical tail wing, minus a vertical fin. The horizontal tail wing area is so large, it makes up most of the horizontal tail wing area. High fuselage sideboards are also a feature. Those who understand aerodynamics will understand the results of these special design features. Plus a colorful trim scheme on clear film - a Paysant-Le-Roux original - will flash its bold bright colors across the sky.

Designed for extreme 3D freestyle flight. Using an unprecedented full-flying rudder, the large area control surfaces allow aggressive acrobatic control.


Engines with fuel pumps allow the fuel tank to be positioned close to the C of G, normal engines with self-contained two-way fuel flow sit the tank in the nose section.


All-balsa structure is fully "framed-up" and factory covered. Fuselage is light weight truss structure.


Lightweight but designed for large displacement engines, and a throttle control to please confident and experienced aerial thrill seekers.


Thick, balsa rib main wing maintains strength with minimal planking for weight reduction. Stall control is made easier with larger front end radius.


Before committing to a torque-roll, even if falling away, the ease of recovery is amazing. When other airplanes would drift, the rudder holds the Flip 3D true.


Moving from a slow knife edge to a torque roll is possible with the wide scope of control available.


Elevator and Rudder servo linkages are designed to run close to the fuselage walls for ease and efficiency.


Covered in Paysant-Le-Roux's original coloring for a magnificent 3D flight spectacle.
Specifications

Length:
1490mm
Wing Span:
1500mm
Total Weight:
approx. 2200-2500g
Wing Area:
60.0dmē
Wing Load:
approx. 37-42g/dmē
Airfoil:
20% symmetrical
Engine:
2 stroke 46-50 class
4 stroke 52-63 class (both sold separately)
R/C System:
4 channel 5 Servos (sold separately)
To order Kyosho 11142FB Flip 3D