Model Trains
Warbird Series CURTISS P40 WARHAWK



No.11822B


No.11822LB w/Landing gear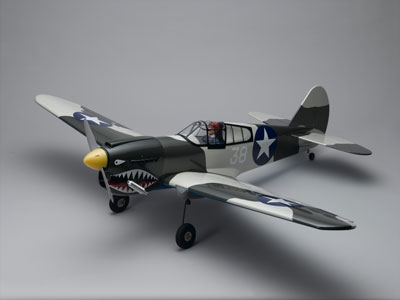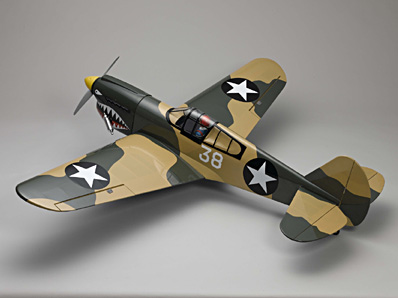 At the start of WWII hostilities, the Curtiss P40 Warhawk was the U.S. Army's main battle plane. Starting with England, the Warhawk in several guises was at the sharp end of many allied airforces. However, the most prominent image of this warplane is the unmistakable shark mouth painted on the nose.

Kyosho has reproduced the Curtiss P40 Warhawk with a factory-assembled balsa main fuselage expertly covered in lightweight film. Just apply the shark mouth and other decals for the finishing touches. Special graphic decals are already applied. The glow fuel resistant high-quality single color film is expertly applied in layers to produce the camouflage patterns and is also resistant to creasing from large variations in temperature and humidity. The detailed camouflage pattern looks extremely complicated but the result is a magnificent finish that you will admire as soon as you set your eyes on it. And the Warhawk also delivers its excellent quality at a great value price! However, one of the main advantages of the lightweight finish of the Curtiss Warhawk is its ease of control, which you will discover is ideal for beginner low-wing flight.

Relive the excitement of flying one of the most famous warplanes ever to prowl the skies with this highly detailed scale reproduction!

Parts Included

260cc Fuel Tank
Spinner
Tires
Moving Tail Gear
Main Gear
Linkage Parts
Required for Operation

R/C System / 4-ch, 5-servo R/C system for airplanes
Engine / 2-cycle .40~.46, 4-cycle .52~.53
Propeller / D6~10 x P7~D12 x P6
Spinner
Engine Starting Tools, Fuel
Main structure is made from lightweight balsa. Special fuselage characteristics of the Spitfire are also faithfully reproduced and factory-finished.
Factory-covered in high-quality lightweight film that maintains its color even if splashed with glow fuel and doesn't wrinkle from variations in temperature.
Either a fixed landing gear or retracts (sold separately) can be used.
Internal structure is already prepared for installation of retractable landing gear.
Plenty of space inside the fuselage makes linkage setup much easier. As the servo bed is already installed, just use linkage parts supplied to complete the few simple remaining steps. The intelligent design also lets the plane to find its center of gravity naturally.
Nicely detailed engine cowl
Specifications

Length:
1,182mm
Wing Span:
1,422mm
Total Weight:
2,400g ~ 2,500g (approx.)
Wing Area:
34.0dm2
Wing Load:
79.4g/dm2
Wing Type:
NACA 1415
Engine:
2-Stroke 40-46 Class (sold separately)
4-Stroke 52-53 Class (sold separately)
R/C System:
4-ch, 5-servo (sold separately)
<6 servos required when using retractable landing gear >
To order Kyosho 11822b Curtis P40
To order Kyosho 11822lb Curtis P40 with landing gear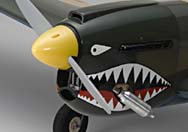 Equipped with trademark large cowling made from lightweight FRP with color finish. All major components are factory-assembled. Expertly covered in high quality film so time needed for completion is dramatically reduced. Plenty of space inside the fuselage makes linkage setup much easier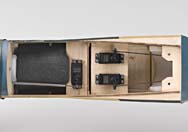 As the servo bed is already installed, just use linkage parts supplied to complete the few simple remaining steps. The intelligent design also lets the plane to find its center of gravity naturally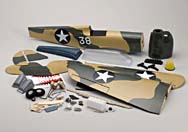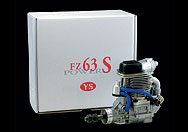 Motor not included
Click on logos to get Brand pages