Model Trains
Messerschmitt Bf109E 40



No.11824LB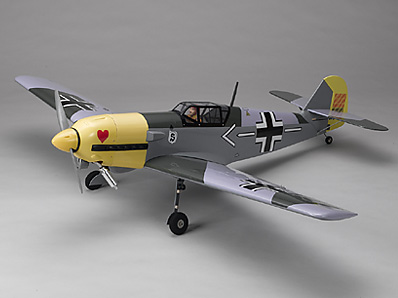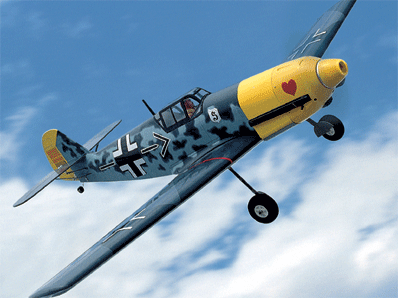 The famous German fighter has been reproduced in a 40-class model. Almost fully pre-assembled so only a short time needed to be flight-ready !



The German fighter plane that dominated the opening rounds of WWII is symbolized by the Messerschmitt 109 series. While there were many versions of the 109, it was the E-type that established the Messerschmitt's reputation right through to the last stages of the war. The same assertive fuselage lines unique to German airplanes reappear in this pre-assembled 40-class version. The mainly balsa construction is expertly covered in film for a professional factory finished airplane with the Messerschmitt's characteristic camouflage being authentically reproduced in layers of high-quality lightweight single color film that is resistant to glow fuel and temperature and humidity variations. Kyosho's deep understanding of aircraft design and construction can be seen immediately and is achieved at a price much lower than you'd expect for a product of this high quality. The combination of excellent control and agility in the hands of experienced fliers allows the Messerschmitt to easily execute stunt maneuvers. The installation of retractable undercarriage (sold separately), adds the ultimate scale touch. Gain a deeper appreciation of history through the sporty and easy to fly scale models of the Kyosho Warbird Collection Series !
Contents
260cc Fuel tank
Tires
Moving Tail Gear
Main Gear Linkage Parts
Spinner (70mm)
Required for operation
R/C System / 4-channel
5-servo R/C system for aircraft
Engine / 2-cycle .40~.46 OR 4-cycle .52~.53
Propeller / D10 X P7 ~ D12 X P6
Engine Starting Tools
Fuel
Fuselage is of lightweight balsa construction.
Complicated fuselage shape is factory-completed.
Covered in high-quality film that resists fading from fuel contact and also resists wrinkling from variations in temperature.
Able to be finished with either fixed undercarriage or external retractable undercarriage (sold separately).
Interior of fuselage structure is built ready for installation of optional external retractable undercarriage.
Technical Data
Length 1,210mm
Width 1,420mm
Weight 2,400g~2,500g (approx.)
Wing Area 34.0dm2
Wing Load 70.5~73.5g/dm2 (approx.)
Wing Type Original Semi-Symmetrical
Engine 2-cycle 40-46 class (sold separately)
4-cycle 52-53 class (sold separately)
R/C System 4-channel, 5-servo (sold separately)
Retractable Undercarriage requires 6-servo R/C System
To order Kyosho 11824LB click HERE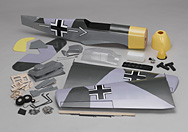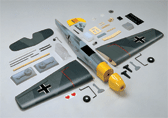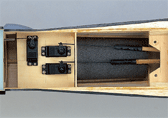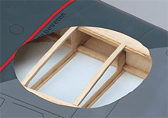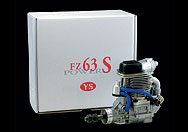 Motor not included
In 1934, Professor Willi Messerschmitt created what was to become one of the most famous aircraft of all time, the Bf109! Radically different from conventional open cockpit, bi-plane fighters of the time, the Bf109 was not instantly accepted. However, after its first blooding during the Spanish Civil War in 1937, opinion was to rapidly change. Produced throughout the Second World War, it is estimated that 35,000 machines were ultimately produced. The more heavily armed Echo version was produced from 1939 until the later part of 1940. The Bf109E is the second model to be introduced in Kyosho's "Super Quality Series Warbirds" range. Built almost entirely from strong yet lightweight balsa wood, the model is supplied in an ARTF (Almost-Ready-To-Fly) format to dramatically reduce build time. Kyosho's Messerschmitt recreates the Bf109's sleek lines to perfection and will build into a superb scale model, straight out of the box. Supplied with fixed undercarriage, it is possible to fit (optional) retractable undercarriage for a more scale appearance. The kit is supplied pre-covered with its multi-colour camouflage scheme already in place. This detailed matt-finish covering also includes German crosses, squadron markings, kill markings and stencils for an outstanding scale finish. The fibreglass cowling is finished in a deep yellow gel-coat which really sets the kit's camouflage scheme off superbly.


Click on logos to get Brand pages