Model Trains
Kawasaki Hein 40 with/retracts



No.11827LB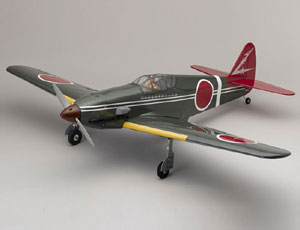 There were only few Japanese fighters with liquid cooled engine and one of them was "Kawasaki Ki 61 Hien". The original development of the plane was aerodynamically efficient and was admired as the representative fighter of Japanese army. The mainly balsa construction of our model Hein results in a lightweight frame that is spectacular to fly. This fighter plane has the speed and maneuverability for stunt performance that will even excite the most skilled flyers. Only a few simple assembly steps, engine mounting and servo linkage setup are required for completion. The Hein also features retracts and flaps that are already installed.
Technical Data
Length:
1,049mm
Width:
1,405mm
Weight:
Approximately 2,700g
Engine:
2 cycles 40-46 class (selling separately) 4 cycles 52-53 class (selling separately)
Wing Area:
32.5dm2
Wing Loading:
Approximately 83g/dm2
Airfoil section:
NACA2415
Radio:
Channel 6 7 servo (sold separately)
Dihedral angle:
5.5°
To order Kyosho 11827LB click HERE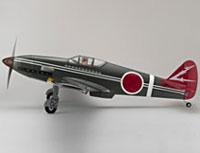 All main parts are pre-assembled and covered in high-quality film. You can have this plane in the air in no time.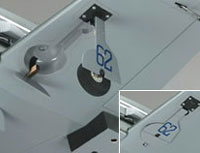 The retracts are installed including the linkage. Notice the extra door on the retracts to completely seal the wheel well when the wheels are up.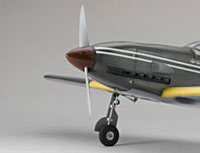 FRP cowling reproduces the subtle curves and color and only requires a short time to complete.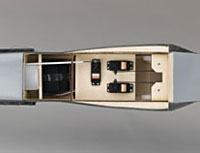 Fuselage allows plenty of space to work with linkages. Servo tray is also pre-installed.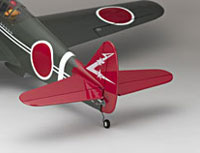 Rudder connected scale tail wheel provides control for safe taxiing and take-off.


Pre-installed flaps make assembly a snap and allow scale flying maneuvers.


Motor not included
Click on logos to get Brand pages