Model Trains
Warbird Series Spitfire 90


No.11891B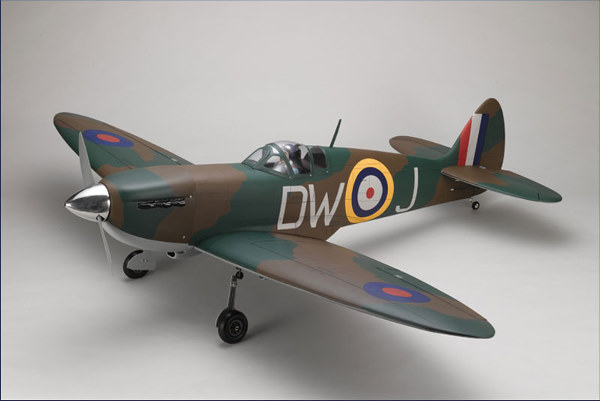 SEE MOVIE HERE
Enjoy 90-size big scale flight. Retracts, flaps and detailed camouflage color scheme recreates the famous SPITFIRE spirit.
The legendary WWII fighter credited with the protection of England at the height of the struggle has been recreated as an impressive 90-class model. Elegant elliptical wings and the rounded form has been immaculately reproduced down to the finest detail with retractable undercarriage and split flaps that also replicate the function of the original Spitfire as well as its form. While the large size produces a calm and controlled flight style, the throttle can be opened up to generate the agile stunt flight of a fighter plane. The sporty flying characteristics will suit intermediate to advanced fliers. As the fuselage is mostly pre-assembled with detailed camouflage scheme also complete with printed film, the model exudes quality workmanship all over. Spectacular through the air and as a display, the SPITFIRE 90 recreates the romance and drama of history.
The English hero of WWII elegantly covered in film with detailed camouflage coloring! See the stunning form of the Spitfire fly again.



The elegant form of the elliptic wings disguise the Spitfire's sting and unforgettable bravery in the heat of WWII. Indeed, the people of England pass down the legend of the Spitfire as the savior of the motherland. However, despite its popularity, the R/C model market has not embraced the Spitfire. Due to its shape, the Spitfire is quite difficult to manufacture and as a consequence its relative cost was high. But Kyosho has solved the problem! Using lightweight balsa as the main structure, the factory-assembled Spitfire is expertly covered in quality film. This special film not only produces a fantastic finish, its also gives the Spitfire's characteristic camouflage coloring resistance to glow-fuel and wrinkling from variations in temperature and humidity. From your first look and feel of the Spitfire, you can't help but be impressed by the exceptional workmanship and quality, and achieved at such a reasonable price! The lightweight finish also contributes to the Spitfire's excellent control and agility that will please beginner low-wing fliers and satisfy experts as well. A scale warbird that flies like a sports plane offers you a flight experience like no other!
Main components are factory assembled so only a short time needed to finish.
Features lightweight balsa structure. Detailed characteristics of the shape are recreated in the pre-built fuselage.
Pre-covered in wrinkle-resistant high-quality lightweight camouflage-print film.
Printed film also replicates the partition lines of the outer planks and hatch in a highly detailed finish.
FRP cowling complete with coloring.
Two-sided main and tail wings for convenient transportation.
Large wing area of the elliptical wing generates the low-speed stability of the original SPITFIRE.
Includes: engine mount; fuel tank; pneumatic tires, and linkage parts

Content:

420cc Fuel Tank
Retractable Undercarriage
Tail Wheel
Tires
Linkage Parts

Required for operation

R/C System / 7-channel, 8-servo (2 each for ailerons and flaps, 1 for retracts)
Engine / 2-cycle 90-class, 4-cycle 110-120 class
Propeller / D15 x P18 - D18 x P6
Φ95 Aluminum Spinner
Fuel, engine starting tools
Batteries specified for R/C system
Glue
To order Kyosho 11891b Spitfire 90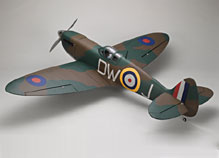 The distinguishing elliptical wings also produce excellent aerodynamic characteristics as a flying model. Large and stable, but also fast and responsive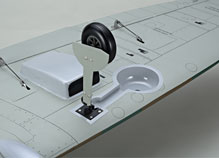 Features externally stored retractable undercarriage, just like the original. Also includes leg covers for realistic appearance, even on the ground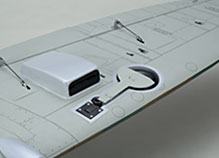 Landing gear retracts neatly and securely into the external storage under the wings. The detailed form adds to the enjoyment of the flying performance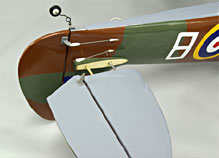 Separate tail wing halves are convenient for transportation. Detailed finish promises stable control and smooth flight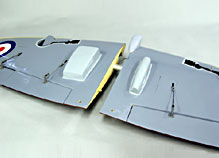 Main wing halves are joined with steel pins and fixed in place with a wing bolt. Structure provides excellent strength for safe stunt flying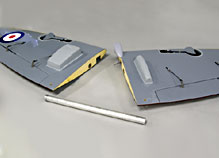 Two-sided main wing structure is easy to transport, despite the big size. Precision finish means accurate reassembly is easy to achieve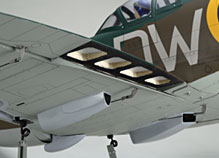 The original SPITFIRE's split flaps have also been recreated. Not only great in take-offs but also very effective for stunt flying
Motor not included
Click on logos to get Brand pages