Model Trains
Half Eight Mini Inferno T1 30121T3-B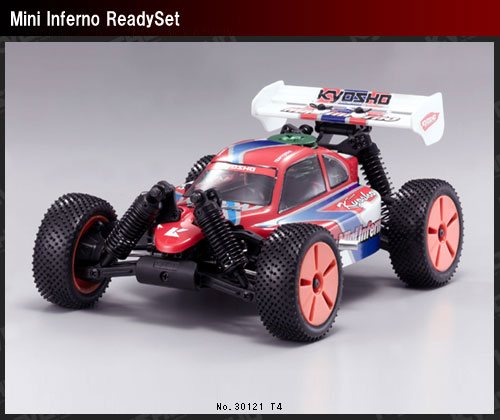 The latest evolution of the 6 time consecutive 1/8 Buggy World Championship winning Inferno, is now making tracks with a 1/16 size electric buggy. Many of the parts and structures are simply scaled down so the geometry and setting points that make the Inferno so dominant are shared. It even features a dummy engine head and exhaust stinger. Showing the quality and performance of the proud Inferno name gives a level of satisfaction seemingly far greater than its size. Full of world championship winning race technology, this is the best high-performance start of a new category. And, it's completely factory-assembled! Even the body is painted so simply load the batteries and go. Continual development of optional upgrades will keep you challenging yourself to that next level. Make no mistake. You will be addicted to high-speed rough-road racing before you even know it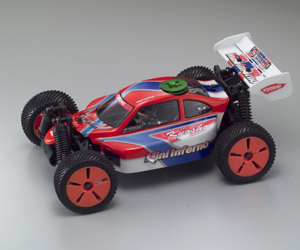 Q:
What are the specifications of the Mini-Inferno?
(As seen on the Kyosho Web Site and the video shown in Hobby Shops)
A:
Battery / No. 71951 Half-Eight SP Battery Set
Motor / No. IHW13 X-SPEED Mini-Inferno SP Motor
Shocks / IHW14 Mini-Inferno Oil Shock Set (Front), IHW15 Mini-Inferno Oil Shock Set (Rear)
Q:
What its maximum speed?
A:
6-Cell Battery + Normal Motor - Maximum speed of 21 km/h
6-Cell battery + Optional Motor - Maximum Speed of 23 km/h (not recommended due to increased power consumption)
Half-Eight SP Battery (8-Cell) + Normal Motor - Maximum speed of 28km/h
Half-Eight SP Battery (8-Cell) + Optional Motor - Maximum speed of 34km/h
Q:
It doesn't seem to have enough acceleration (not transferring the drive power). Why?
A:
The factory setting of the Mini-Inferno is for off-road use so the slipper gear is set a little loose (for 6-Cell Battery) to allow the car to accelerate smoothly at the start with a small degree of slip (refer page 23 of instruction manual). This setting delivers better off-road acceleration and prevents damage to the gears. If you still feel there is not enough acceleration, refer to the instruction manual and adjust up to 4mm-5mm to suit. (Note the following caution)

CAUTION: In order to prevent damage to the gears, the car will still slip during acceleration even when adjusted to 4mm. Adjusting further will allow the car to accelerate without any slipping, however, the increased load on the gears can cause damage. For on-road use or on high-grip surfaces, adjusting to 3.6mm~4mm is recommended.
Q:
When will the 8-Cell Nickel Metal-Hydride battery be available?
A:
It's available in June, 2005.

No. 71951 Half-Eight SP Battery Set
No. 71952 Half-Eight SP Battery
The battery protection function included in the Battery Set keeps the battery voltage at about 7.0V. This prevents the damage to the battery from discharging too much and safely maintains the battery's original performance for longer.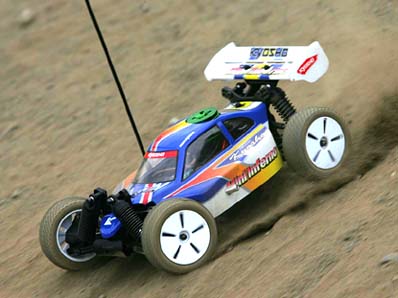 Imagine the sophisticated design technology of the 6-time consecutive World Championship winning Inferno's latest MP777 model condensed into a high-performance electric racing buggy.
Roughly half the size of the 1/8 Inferno, this half-eight (1/16) sized off-road machine just powers over the ruts just like its big brother with its similar designed suspension unit, bulkhead, knuckles, radio plate, shock stays and even a similar number of bolts.
It even features a dummy engine head and muffler cutter, and the logo etched on to the front diff case completes the authentic Inferno look. But the excellent workmanship is also backed up with top-level off-road racing performance from the fulltime 4WD system and race-bred components so the Mini Inferno is right at home in the mud or powering through jumps. Plus it even comes as a fully factory assembled ReadySet with radio system included.
Now you can experience the excitement of high performance off-road racing straight out of the box!

| | |
| --- | --- |
| [1] | Dummy engine head and muffler cutter complete that unmistakable Inferno style. |
| [2] | Equipped with built-in speed control amp with brake and reverse. |
| [3] | Large rear wing generates powerful down-force. |
| [4] | Equipped with total of 12 precision ball bearings. |
| [5] | Special pin-spike tires give you the confidence to take on any surface. |
| [6] | Boasts deep stroke 4-wheel independent double-wishbone suspension. |
| [7] | Features slipper gear to protect drive system from external shocks. |
The intimidating form of the 1/8 Inferno MP777 is condensed into a 1/16 sized off-road missile loaded with advanced racing components. Compact in size, it has a length of 270mm.

Comes as a ReadySet so just set the batteries and hit the dirt.

Six AA-sized alkaline batteries provide long run times of up 35 minutes.

Multi-point setting options and parts make this a proud member of the Inferno family. <Parts included in kit allow adjustment of: springs; chassis height; front caster; rear toe-in and wing angle.>

Race up to 12 cars together! Buggy power can make any open space a racetrack.

Maximum speeds of about 21km/h.

Wide range of optional upgrade parts for even higher performance.
* Caution : Do not operate in areas prohibited to R/C cars or in dangerous locations.

Spec Comparison
Mini Inferno ST
Mini Inferno
Length:
270mm
260mm
Width:
215mm
173mm
Gear ratio:
12.6:1
10.8:1
Tire size:
74mmX36mm
64mmX25mm
ReadySet Contents

| | |
| --- | --- |
| | Factory-assembled chassis with installed R/C Unit |
| | Painted body complete with markings. |
| | KT-3 wheel-type transmitter |
| | Two different front hubs for choice of settings. |
| | Three varieties of rear lower suspension holders for different toe-angle settings. |
| * | AA-size X 8 alkaline batteries for transmitter, AAA-size Ni-MH batteries are sold separately (not included) |
Chassis Technical Data
Length
270mm
Width
173mm
Height
100mm
Weight
800g (approx.)
Wheelbase
176mm
Ground Clearance
15-25mm
Tread (F/R)
148mm
Tire (F/R)
φ64 x 25mm
Gear Ratio
10.8:1
Motor
380-Class
See the PLAY Guide with tips how to play with these Mini Inferno Cars click HERE
To order Kyosho 30121T1B click HERE
To order Kyosho 30121T2B click HERE
To order Kyosho 30121T3B click HERE
To order Kyosho 30121T4B click HERE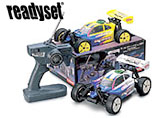 Set Contents
Fully Assembled Chassis
Pre-Painted Body
KT-3 Wheel-Type Transmitter
Front Hub (2 types) for different settings
Rear Lower Sus. Holder (3 types) for different settings
6 x AA-sized batteries for chassis and 8 x AA-sized batteries for transmitter are sold separately.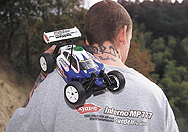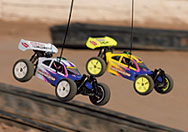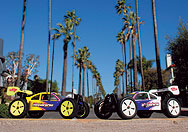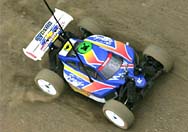 Click on logos to get Brand pages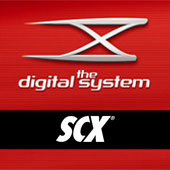 Latest news:
Read our Feed News for the latest information on what's going on in our web site and the World of Hobbies.