Half Eight Mini Inferno ST 30122GSB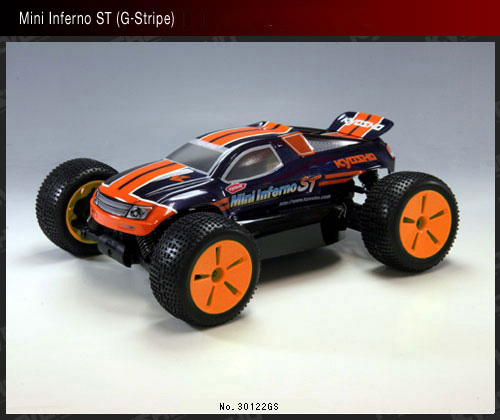 The Mini-Inferno ST builds on the hugely successful Mini-Inferno line of 1/16 scale off road cars. The ST with its oversized tires and truck body gives the Mini-Inferno line an new aggressive look. To go with this aggressive look, Kyosho has updated many features of the ST over the standard Mini-Inferno.
First of all, the new ST comes with oil filled shocks to really smooth out the terrain. Secondly, Kyosho as updated the front and rear differentials to sealed units just like you would find in the full size 777. Add longer arms, and beefed up shock towers to the list of improvements and this is a mini truggy that is ready for anything!
Features
Oil-filled shocks
Sealed 4-gear diffs (adjustable with silicone fluid)
Longer suspension arms and driveshafts (true truggy stuff)
Larger diameter wheels and tires with foam inserts
Redesigned shock towers with gussets for strength
arts for changing rear toe, camber, and ride height will be included
TR with standard Mini Inferno electronics
Spec Comparison
Mini Inferno ST
Mini Inferno
Length:
270mm
260mm
Width:
215mm
173mm
Gear ratio:
12.6:1
10.8:1
Tire size:
74mmX36mm
64mmX25mm
ReadySet Contents

| | |
| --- | --- |
| | Factory-assembled chassis with installed R/C Unit |
| | Painted body complete with markings. |
| | KT-3 wheel-type transmitter |
| | Two different front hubs for choice of settings. |
| | Three varieties of rear lower suspension holders for different toe-angle settings. |
| * | AA-size X 8 alkaline batteries for transmitter, AAA-size Ni-MH batteries are sold separately (not included) |
Chassis Technical Data
Length
260mm
Width
215mm
Height
80mm(Not including body mounts)
Ground Clearance
25mm
Wheelbase
180mm
Tread (F & R)
175mm
Tires (F & R)

Φ

74 x 36mm
Gear Ratio
12.6:1
Weight
930g (approx.)
Motor
380-class
See the PLAY Guide with tips how to play with these Mini Inferno Cars click HERE
To order Kyosho 30122GSB click HERE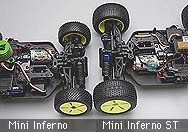 Long span suspension arms produce extended suspension stroke so you can get off the beaten path whenever you like.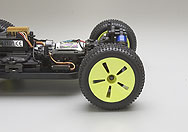 Large diameter rubber tires with fitted inner sponges on special wheels deliver awesome rough road performance.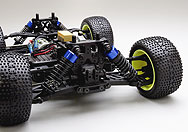 Equipped with Special Oil Shock for long span sus arm, and big tires.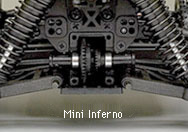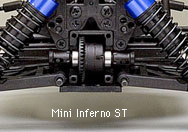 Equipped with closed-case differential that includes 4 high-strength
bevel gears to handle the heavy loads of the big tires. Add diff grease (sold separately) for a variety of settings and driving characteristics.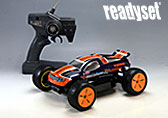 The essence of the powerful 1/8 Inferno MP777 has been condensed into this 1/16 size chassis and modified for optimum stadium truck performance.
Just load the batteries into this ReadySet and you can hit the dirt fast.
Six AA-sized Nickel Metal Hydride batteries on the chassis produce long run times of more than 30 minutes.
High rigidity shock stays and oil shocks provide excellent damping effect and are standard equipment.
Equipped with slipper gear to protect drive system from shocks.
Ultra efficient drive train is fitted with a total of 20 ball bearings throughout with two ball bearings on each wheel.
4-wheel independent double-wishbone suspension boasts deep stroke suspension.
Features multi-point setting and parts for adjustment. <Spring tension, chassis height, front caster and rear toe-in can be adjusted with parts included in kit>
Features internal speed control amp with brake and reverse function.
Up to 12 cars can be run in the same race! Take your mates on in big tire stadium truck racing action!
Wide range of optional parts is available so your machine can evolve with your skill for even more fun and performance.
* CAUTION: Do not run your R/C car in a prohibited or dangerous area.