Scheduled for worldwide release on November 1, 2006 What do you get when you combine world-beating chassis technology with the awesome power of a high-performance SIRIO 09 engine? The answer is the Half-8 GP Mini Inferno buggy!
The ultimate racing winning chassis technology of the Inferno, proven with 7-time World Championship crowns, has been concentrated into half its original size. Then add a specially designed 09-class engine from the world's greatest high-performance model engine manufacturer; SIRIO, and the performance is simply dynamic! The Inferno's design has been scaled down so the original structure and shape are reproduced and the Mini-Inferno loses none of its World Championship winning build quality. This machine gives you that irrepressible feeling of GP power like no other.
The factory-built chassis is also available as a Readyset package including radio system, Ni-MH receiver battery and starter box. All you need to do is add fuel and batteries for the ultimate GP off-road experience!
Item: 31312ARB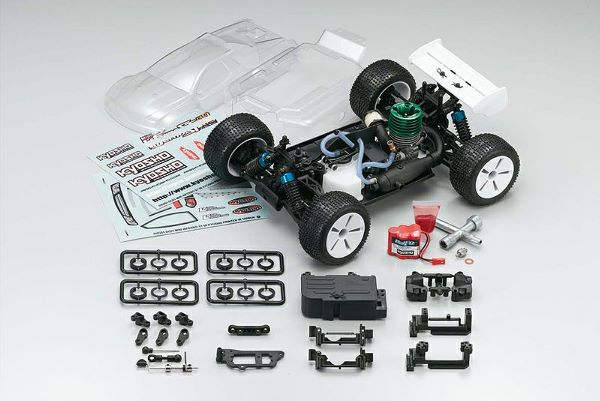 What you see is what you get.
No radio, no servos, no starter box.
This is the Kit Version.
ARR (Almost Ready to Run)

watch the video