This is a year-by-year accounting of the history of one of the R/C car industry's fastest-growing companies. It all started many years ago with a dream of building the world's most exciting and innovative high-quality R/C car products...

1986 - Hobby Products International is started in Costa Mesa, California by Tatsuro Watanabe and a partner. Investment: $100 each. Square footage of office: 300 square feet (28 square meters).

A line of electric R/C motors called the "Uno" series were among the first products from "HPI". Later that year, HPI opened a small office in Japan.

1987 - Masami Hirosaka uses an HPI Uno motor to win his first IFMAR World Championship in England.

1988 - HPI USA starts exporting popular products from the USA to Japan. We introduced products like MIP, Peak Performance, Twister, Paragon, LAVco and others to the Japanese market.

1989 - Akira Kogawa is hired as Chief Engineer. His first project is to design new truck wheels for the expanding stadium truck market. The wheels, HPI's Super Star Truck Wheels, are still available and even more popular than when they were introduced!

Number of employees: four.

1990 - HPI moved to a larger building in El Toro, California. Square footage: 700 sq ft (65 sq m).

HPI also released graphite parts, wheels and mounted foam tires for pan cars. The graphite Aero Lower Brace, which provided "spur gear protection and ground effects", is a popular hop-up item.

1991 - HPI starts to manufacture option parts for touring cars, and releases motors for off-road trucks.

1992 - HPI's second designer, Ito, is hired to design pan car parts, including chassis, rear pod parts, wing buttons and other parts. HPI expands into another building unit, doubling size to 1400 sq ft.

1993 - HPI gains success and recognition selling hop-ups for 1/10 scale touring cars and Nitro cars. Popular parts included front and rear suspension pieces for F1 and lowering kits for Tamiya TA02 sedans. F1 parts are some of the most popular parts HPI produces. Super Radial tires are introduced for touring cars, as well as five- and six-spoke wheel designs.

HPI wins the Thunderdrome with Kisbey Modified motors and Gary Hamilton driving.

1994 - Tatsuro Watanabe buys out his partner and becomes the sole proprietor of Hobby Products International.

The Super F1, designed by Ito and HPI's first car kit, is released. It is Ito's first-ever R/C car design from the ground up and is a critical and commercial success. At the same time, the Road Star (a pan car in oval and road course versions) and Street Machine (a pan car for beginners) are released. Dave Potter (HPI's current General Manger) is hired to help use his NORRCA Dirt Oval National Champion skills for the development of new products. Kent Clausen, past IFMAR World Champion, is hired to take over marketing and graphics duties, just in time for the Chicago Hobby Show. His first project: designing a new HPI logo and kit box for the Super F1.

More touring car wheels are introduced (new five-spoke and three-spoke versions).

Number of employees: nine.

1995 - The RS4 electric touring sedan is released mid-year to wide acclaim for its innovation. The RS4 was one of the original Touring Cars and opened up a whole new market to HPI.

The 911 Turbo and F355 are the first HPI bodies to be designed and produced in the US. The NSX is still popular today!

Past ROAR National Champion Shawn Ireland (HPI's Vice President) is hired for customer service.

1996 - The Nitro RS4 is released to eager hobbyists wanting to try something new. The Nitro RS4 was one of the first competition-level Nitro touring cars available.

More touring car bodies are released, such as the Viper, Accord, Z3, A4 and others. Mini bodies, wheels, tires and optional chassis are also introduced. A 2 speed transmission for the both the electric and Nitro RS4 is released.

HPI expands expands again, doubling size to 2800 sq ft.

Number of employees: twenty.

1997 - HPI moves from its small El Toro offices to the current building in Irvine. Square footage: 14,000 sq ft (1,300 sq m).

Early in the year, the RS4 Pro and RS4 Sport kits are shipped to distributors. This is the first update of the RS4 chassis, and racers and hobbyists applaud the kit for its ease of use and durability. The Nitro RS4 Mini and then the RS4 MT (November) kits are released, opening up new niche markets for the company.

The official HPI Racing web site is online October 1, 1997.

Number of employees: thirty.

1998 - The electric RS4 Mini (February) is released, using mostly parts from the existing RS4 Pro and Nitro RS4 Mini kits.

The Nitro RS4 Racer (February) is released early in the year, responding to customer's requests for an upgraded Nitro car kit. This is HPI's first Nitro kit to be released without an engine.

The electric RS4 Rally (May) is released, the first sedan chassis to take advantage of long-stroke shocks and an inner body set to increase its utility off-road.

HPI Europe is begun in England to manage distribution to all of Europe, Russia, the Middle East and other areas.

Late in the year, two totally new kits are released: the Super Nitro RS4 (December) and the RTR Nitro RS4 (December), HPI's first ready to run kit. The RS4 Pro 2 (December) is released as an evolutionary design of the successful RS4 Pro.

HPI expands to take over the entire building. Total square footage: 25,000 sq ft (2323 sq m). Previously, half of the building was occupied by Airtronics.

Number of employees: forty-five.

1999 - The Nitro RS4 2 (July) is released. Updates include an improved suspension design, full ball bearings, countersunk anodized chassis, and many other improvements.

The Proceed 1/8th scale race car (August) is released, surprising many HPI fans and other hobbyists with the "no holds barred" approach of releasing a top-level competitive racing kit.

The official HPI R/C Forum is launched on the web site in April, and web site traffic almost immediately jumps 300%..

The first full year for the HPI Challenge Europe series. World Finals are held in Torrance, California in November. Total number of entries is 248, and some racers have to be turned away.

The Buy HPI site is launched, offering discontinued and specialty items directly to consumers.

Number of employees: seventy..

2000 - The Nitro MT (February) is released, HPI's first shaft-drive project and also our first Nitro truck.

The Nitro Racer 2 (March) replaces the Nitro RS4 Racer in the product line, while the RS4 Sport 2 is released at the same time to fill the need for budget hobbyists.

More RTR kits like the Nitro Rush kits (April) and Nitro MT RTR (June) are released to satisfy demand for durable, ready to run kits.

The Nitro MT Racer (August) is released to satisfy demand for a hopped-up version of the popular Nitro MT.

The first full year of the HPI Challenge USA is begun. World Finals are held in Irvine, California in November. In an attempt to make the races easier to manage, entries are limited to 200. Total number of entries reaches 215 anyway.

The Super Nitro Rally is announced in December, amid high anticipation from Rally enthusiasts and hobbyists looking for a "go-anywhere" type car.

20011 - The Pro 3 is released in April, IFMAR World Champion Atsushi Hara is hired to drive the Pro 3 at races around the world.

The innovative Micro RS4 was released to the delight of garage racers everywhere. An RTR version of the Super Nitro RS4 was also introduced.

The HPI Challenge USA series was very successful again, with as many as 200 people attending events around the USA using HPI cars, the winners were flown to Europe for to attend the 2001 World Finals.

20022 - HPI expands again, moving into a brand new 45,000 sp ft building in Foothill Ranch, CA. The Sprint RTR electric touring car is brought to US shores, after a great debut in Japan and Europe! The shaft drive RTR 3 car is released, along with a RTR version of the popular Micro RS4. The HPI web site reaches the 10 million hit mark, making it one of the most popular R/C web sites on the internet. The Savage 21 is released to rave reviews and exciting owners!

The Micro RS4 won not just R/C Car Action's 2002 Car of the Year, but also ranked in Xtreme R/C's X-Best for 2002 and Hobbytown USA's Car of the Year!

In November, we sent 5 HPI Challenge racers from around the nation to Japan for free, to race in our HPI Challenge World Finals!

20033 - HPI releases the pro-level R40 Nitro racing sedan, which takes 1st place at the prestigious 2003 ROAR Fuel Sedan On-Road Nationals. The Savage SS is released, a much-requested kit version of the popular RTR Savage truck. A flurry of new cars and trucks are released for the Christmas season: Savage 25, Pro 4, Nitro RS4 3 Evo, Rush Evo, Nitro MT 2, and the electric Super RS4.

20044 - HPI's owner, Tatsuro Watanabe, retires from the daily operations of HPI USA, Shawn Ireland is promoted to President of HPI. Sponsorship of a full-sized monster truck called the "Savage Ride Truck" begins, the giant truck is painted exactly like the R/C Savage and tours the United States promoting the Savage and R/C monster trucks. For touring cars, HPI announces sponsorship of a Subaru Impreza in the Super Taikyu endurance series. HPI team driver Atsushi Hara wins ROAR National Championship titles in electric touring with the Pro 4 and nitro touring driving the R40.

2005 - The potent HPI Savage 4.6 SS truck is released, along with the high performance Nitro RS4 3 18SS and Nitro MT 2 18SS, and the Stage D drift conversion set for the Nitro RS4 3 line of cars. In commemoration of Atsushi Hara's National Championship titles, special "Hara Edition" versions of the Pro 4 and R40 are released. Exact replicas of the HPI Racing Subaru are released for the Micro RS4 and Nitro RS4 3 1/10th scale touring car. The famous line of ready-to-run nitro touring cars is further enhanced with the release of the RTR nitro RS4 3 Evo that features more powerful T-15 engine and a 2 speed tranny as standard equipment. Carrying on the HPI tradition of innovative products, a 3 speed transmission is released for the Savage line of trucks, and included in the Savage Limited Edition truck. Also released was the KFX 700 ATV, a unique variant of the Savage truck that captures the spirit of ATV action with realistic looks and a fully articulated rider. HotBodies merges with HPI (April 1st, 2005).

20066 – 2006 was our busiest and most productive year to date at HPI! A huge list of exciting new products were introduced, including the RTR Hellfire truck, RTR Savage X, RTR Sprint 2 electric touring car, Baja 5B gas buggy, high performance Hellfire SS kit version, three different E-Savage electric trucks, Micro Sport, Micro Drift, Savage X SS 4.6 kit version, 8 different 1/43rd scale die cast models, the RTR Firestorm 2WD truck, Sprint 2 Drift, and the fun Wheely King electric monster truck.

HPI celebrates its 20 year anniversary!!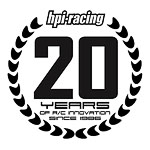 20077 - Another super busy year for HPI. The year fired off with a bang with the launch of the screaming Nitro RS4 3 18SS+ 1/10th scale nitro touring car kit, followed by the Ready-to-Run Nitro RS4 3 Evo+, both available with our line of realistic "Vintage" muscle car bodies. The popular Wheely King 4X4 launched in March, fearing true four wheel drive performance that made it an instant hit with the rock crawling crowd. Next up was the 1/10th scale Nitro RS4 MT 2 18+ four wheel drive stadium truck in kit form, packing the powerful 18SS engine and a host of go-fast upgrades. In May the "Toughest, Strongest, Fastest" Savage X 4.6 Ready-to-Run truck was released, featuring the incredible 4.6 Big Block engine for massive torque and blistering top speed, wrapped around an updated chassis that was designed to handle the increased power. The Sprint 2 Drift came out in June, quickly becoming the go-to platform for the electric drift scene, complete with scale replicas of Volk TE37 wheels and a choice of two "JDM" bodies. The Nitro RS4 MT 2 G3.0 was next on the list to receive a dose of extra power, making it one of the most powerful 1/10th scale Ready-to-Run trucks on the market. Swinging over to our entry level customers, we released the E10 Touring and E10 Drift electric cars in September, 1/10th scale electric cars that are available completely Ready-to-Run or "Assembled" with no electronics, both at prices that make getting into R/C easy on the wallet. Kit builders rejoiced with the release of the Baja 5B SS in September, a high performance "build-it-yourself" version of our class-leading 1/5th scale gas buggy, loaded with hop-up parts and a powerful new engine. September also saw the release of the E-Firestorm 1/10th scale 2WD electric truck, bringing the unbeatable toughness of our nitro Firestorm to the world of electric stadium trucks. And to cap off a very busy year, the Nitro RS4 3 Driftft was released just in time for the Holiday season. The Nitro RS4 3 Drift is a completely Ready-to-Run 1/10th scale touring car that adds the sound and fury of nitro engines to the drift scene.