The largest Marklin Trains & Trix Minitrix Direct Importer/exporter Worldwide.
Tamiya Authorized Distributor in USA & Latin America & Kyosho Authorized.
Micro Macro Mundo Inc.
(The European Model Trains Headquarters)
Founded in 1986 in Miami Florida U.S.A.
presents:
Shipping Charges:
(For Overseas scroll down please)
Please note that shipping charges are based on weight or size and value. You must know what you want and how much can weight to establish an estimate on shipping charges. We can not quote shipping charges if you do not say what do you want and how many pieces of each.
Due new rates changing every day from all the carriers due high gas cost, called "gas surcharge", we are unable to offer an exact value for shipping charges in our shopping cart at check out time.
What you see on the check out page is an approximate average value for a normal small package.
Larger packages or heavier bulkier packages even with low value, might have a higher shipping charge, so values will be adjusted at shipping time on your Invoice to the real amount that the carrier charges us.
Please note that you will be billed on each invoice as follows:
(your charges on your shopping cart may be different than those that will appear on your Invoice based on the rates below)
For USA Continental 48 States:
ORDERS UNDER $ 25.00 ARE NOT ACCEPTED.
Note that smaller orders can be expensive due the high rates Carriers have started to charge as their minimums are too high.

FROM $ 25.01 UP, THE FOLLOWING MINIMUM RATES APPLY:
Via FedEx Ground as default.
Actual fee paid to carrier, normally FedEx ground service plus a handling fee of $ 4.50
We like to call your attention on small value orders: The minimum of 1Lb will be charged even when item might weight less than that. Some items or combination of items can add low value in $ but a large weight. Your order will be charged according with the weight or size of it.
Handling Charges: We charge a $ 4.50 per each order regardless of value or weight. This must also be considered when placing small orders.
Carriers fees are based on Zip Code, Residential address, signature required, fuel surcharge, dimensions of package, length of package (maximum 36 inches) and many other combinations very hard to explain plus the weight of the package and type of service requested and finally, the value of it.
Oversized packages are calculated at FedEx rates for bulkier packages and treated as "Over sized". It includes normally large sets or Starter Sets, Radio Control Tanks, Radio Control Ready to Run cars and trucks, Sailboats, speed boats and any bulky package containing several plastic kits even when cost of them can be low, but they add fast on weight.
If you select "PREMIUM SHIPPING" the MINIMUM charge is $ 42.50 plus $ 4.50 Handling for shipments FedEx 2nd. day service by air but will be adjusted to actual price paid to carrier plus our $ 4.50 handling fee. Note that ALL PREMIUM shipments are via Air so size is a factor. You must think in size/weight to calculate the payable weigh of the parcel.
Please note that carriers are enforcing strongly the size of the parcel, so weight will be based on "Dimensional weight" even for ground. Read CAREFULLY the published table from UPS as it applies basically to all carriers.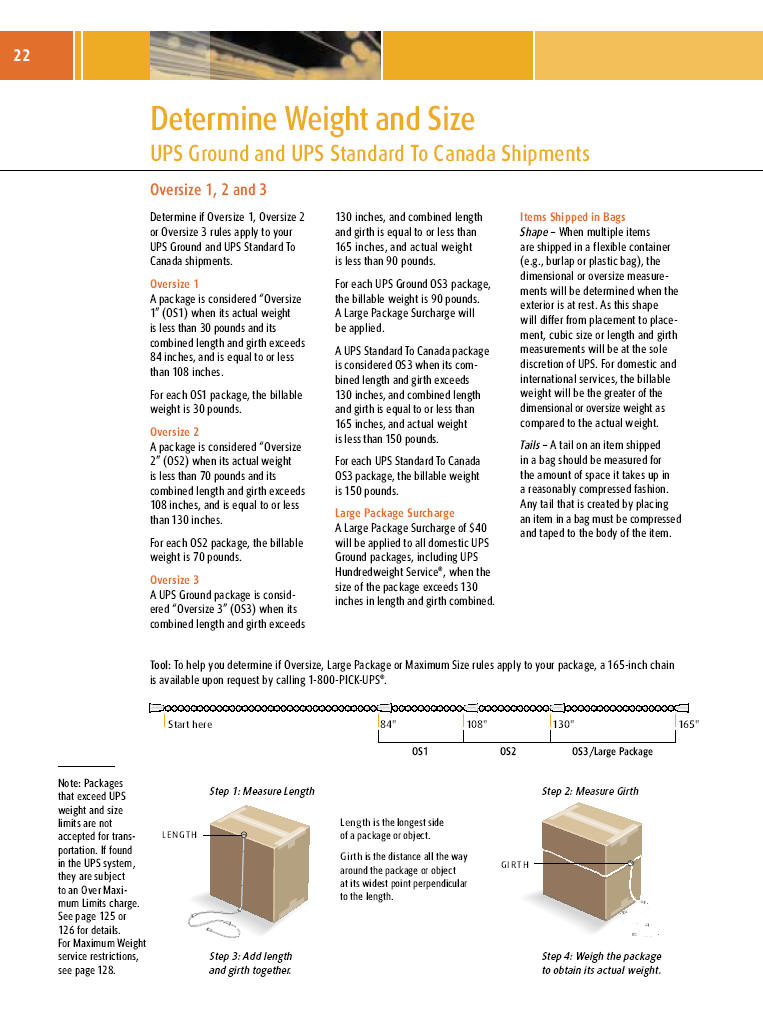 To calculate dimensional weight, multiply width by length by height and divide the result by 194. This is your dimensional weight in pounds. Also, if any side of the box is larger than 30 inches, then will be considered oversized and a minimum charge of 30 pounds will be imposed, so be careful when ordering just one flex track as the shipping of it can cost you more than a full box of it.
We have no way to include all these charges in our system in a manner that our shopping cart can reflect so many combinations, so from now on, you will get charged according with the FedEx manifesto of shipping plus our handling fees.
This is our only way to be fair and not overcharge Customers.
Again, any value listed on your shopping cart or Confirmation Order IS NOT VALID, it is just as a reference.
At the end of this page, we have published some charts for you to see rates based on weight and surcharges. Only as a reference. Note we will add also the percentage FedEx uses as "Fuel Surcharge"
If you need a confirmation on fees paid, you must wait 30 days from date of shipping and request us a copy of Invoice from Carrier to us for your package.
---
If you request to be shipped by USPS (Postal Service) or there is no other way to ship to you, then a "Delivery Confirmation Tracking Label" will be added to your package and $ 2.50 to the above charges.
---
OVERSEAS:
Select from the list your Country.
For shipments via United States Postal Service (USPS) please click here for rates, conditions and restrictions.
All shipment to overseas are primarily sent via USPS, Express Mail Service (5 to 10 days delivery) Insured where possible or to Countries that allow Insurance.
We charge you at cost (you will be able to see the postage on the package) plus $ 6.00 for Handling. These $ 6.00 include the physical posting of the packages on the Postal Service Counter and the preparation of the export manifesto required by Law in the United States.
COURIERS:
If you desire to be shipped via Federal Express or UPS International, we will charge you at front all the expenses as quoted by the Courier plus $ 6.00 handling plus any duties or VAT that the carrier imposes to us. Your order is a confirmation that you have read these rules and that you accept them so no claim or dispute can be placed from your side for freight charges.
We will be happy to provide you with a copy of the Invoice from the carrier showing the expenses at your request.
We reserve the right to make adjustments to the shipping charges when we receive the Final Invoice from the Courier if it is not the same as quoted or any extra expense has been added to your shipping.
---
Address CORRECTIONS:
If the courier needs to make any correction to your address as stated in your order, they charge us a minimum of $ 6.00 for each correction so consequently, we will charge you an extra $ 6.00 at the time we receive the extra charge from UPS.
You will be charged with these expenses if a correction charge is made by any courier due a faulty address given by you including incomplete addresses such as apartment numbers or suite numbers, etc. or because you request a change on your delivery address directly to the courier after the package was shipped from our warehouse to you.
Please check that you address is correctly included on your order.
Couriers we use are FedEx, UPS, USPS and any Commercial Courier giving International Service at our choice. If you have account with DHL, we can use it and we will not make any charge for shipping. You will be invoiced by DHL.
---
ALL ORDERS are sent with Signature Required.
---
Find Fuel Surcharge: Note that they change daily and may be well over 10% of regular rate due high cost of Diesel fuel.