Model Trains
Faller models & Faller car systems
A model railway layout does not only consist of tracks, trains and railway stations but is just as versatile as the reality itself. Therefore, we offer everything you need to build a perfect layout.

The extensive selection of buildings is completed with ground mats and trees, scenery elements and town accessories, bridges and everyday objects as well as with the unique car system with which roads turn into actual traffic routes.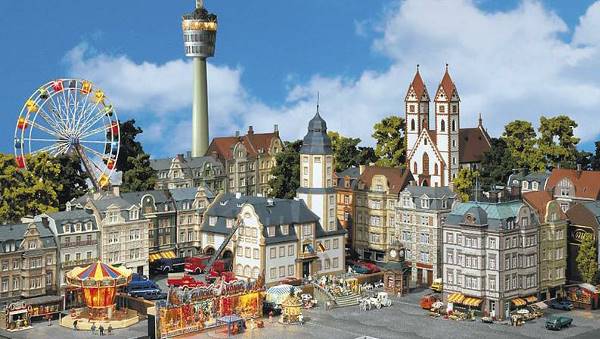 Faller is one of the two largest German Manufacturer of buildings and structures for your layout or diorama. (The other is VOLLMER)
Buildings are on kits, so they require assembly. No paint required.
Starting on 2007, Faller also offer a few completely build kits, ready to use just out from the box.
Faller is the Manufacturer of the Amusement Park items, HO and N gauge small marvelous working machines that will keep you and yours amazed on how their work.
No paint needed and includes all what you need (a few exceptions require extra lights or motors).
If your layout is Marklin AC or any Brand DC under European style, Faller is one of the best choices. On the cover of the 2002/2003 catalog, you can see the largest Ferris wheel ever made, with 36 full lighted gondolas, motor and light effect circuitry for the large leg supports of the wheel is included, items FA140470+FA140471. You must try one of these ingenious kits. Check them out on the range of FA140xxx 
NOW from 2010 we carry POLA. A Faller Brand for G gauge (G scale is 1:22.5) Same quality than Faller POLA is well known for their ample selection of G Scale buildings and structures for garden railroads.
Faller Cars System: WE ARE DEFINITELY THE ONLY ONES YOU'LL GET THAT FROM We bring movement onto the streets of the model layouts. Slowly but surely it is also capturing the hearts of many model railway fans.

Because the fact is - the more movement there is on the layout the more appealing and exciting the whole thing is. You can find all products for the Car System in this area.
And now, Faller Car System digital: The satellites serve to locate the vehicle. The duration of the vehicle ultrasound signal is transmitted to all the satellites and therefore, the position of the vehicle can be precisely determined with an accuracy of 10 mm. Depending on the size of the system, 3 satellites are necessary for the fully automated digital operation of the Car System Digital.
We have a new shopping cart located in our new web site www.micromacromundo.com The links below will take you to that shopping cart. You can navigate to other Brands or take other routes while in the new site, however, the main page for Faller products will remain this same one as it is the largest recognized page in the web by all search engines.
Enjoy our new faster and precise shopping cart.
Your best shot. Search all FALLER HERE and select the exact category you like in our new web site for Faller Products

Or select HERE for All categories ALL Manufacturers in Buildings and structures (our best choice)

NEW FALLER 2013 ITEMS Listed HERE

To see items previous years, please scroll down until you find each year in detail.

Faller car system

Faller HO Stations
Faller HO Accessories for yards and Stations, includes ramps and track buildings
Faller HO City buildings, Houses & rural homes
Faller HO pre-build kits fully assembled and painted
Faller amusement park items and accessories HO
HO military figures
HO figures
Faller Scenery, glues, accessories and constructions tools
HO accessories, electronics and add-ons to buildings and layouts, ground mats
Faller trees, edges, bushes, etc.
HO Special items
Faller N Stations
Faller buildings for yards and accessories for Stations N gauge
Faller N homes, City Buildings, Commercial Buildings, rural homes, etc.
Faller Amusement park and accessories N gauge
N Accessories More Here and more Here
Z gauge products

Faller Catalogs
NEW FALLER 2012 ITEMS Listed HERE
Faller new items 2011
Faller new items 2010 and POLA 2010
Faller new items 2009
Faller new items 2008
Faller new items 2007
Faller new items 2006
Click on logos to get Brand pages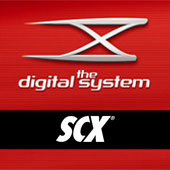 FALLER is a company with longstanding tradition

You start with the implementation of an idea to offer houses as a construction kit. Because the space requirements could not be fulfilled in Stuttgart, the brothers Edwin and Hermann decide to relocate to their home town Gütenbach in the Black Forest. The company is named Gebr. FALLER.

At first the premises are fixed up with a great deal of talent for improvisation and imagination, then the necessary machines. The light is on long after dark in the FALLER workshop. Planning, designing and construction are carried out. That is how the success story of the FALLER houses began.

Today, FALLER is envisioning the future. The world changes, new fascinating facets can be found; in architecture, in everyday life or in matters of mobility. Of course all of this also changes the world of models in which high-tech trains drive past modern buildings and novel additional options which involve more dynamics and effects.

So there are always new possibilities of making your model railway and modelling even more lively and exciting. Apart from classic building construction, we place great emphasis on special themes, current types of architecture and the integration of the car system. In the future, we will offer you even more animated models. This is made possible by new drive, control and lighting technologies which are transformed and integrated accordingly by our model making experts.
Two things which have not changed. The head office and the production location are still in Gütenbach, i.e. the FALLER houses are made in Germany.

It goes without saying that in doing so, FALLER attaches great importance to richness of detail and quality.

Briefly:

Company foundation: 1946
Houses per annum: approx. 1.2 million
Number of employees: 91