VOLLMER (a Viessmann Company)
Kits of Buildings and accessories for your Train Layout or Diorama.
When quality matters, there is no other choice: Vollmer kits
Vollmer model railway accessories are produced for more than six decades in Germany and distributed internationally. Lots of model railway fans worldwide are preferring Vollmer kits, because Vollmer is producing exclusive and true scale models in a high level quality.
The finest German Manufacturer of model buildings and structures in kits to be assembled for Layouts in HO scale, N scale, Z gauge and 1/G gauge.
Nobody can deny the beauty of these Vollmer models once assembled. You don't need to paint or use any extra material to get what you see on the pictures from the Vollmer Catalog.
There is almost no need to file any piece to make it fit perfectly in its position on the model. Vollmer kits have joints that are invisible, that's how perfect these models are.
For HO, N , 1, G and Z gauges.
A very large selection of buildings that makes it easy for you to build a replica of any European Style City, or the best train yards you can imagine.
We suggest you to buy the Vollmer Catalog $ 19.00 included freight in USA (English language) and make your own selection.
See one example below and tell us if it is a real picture or what.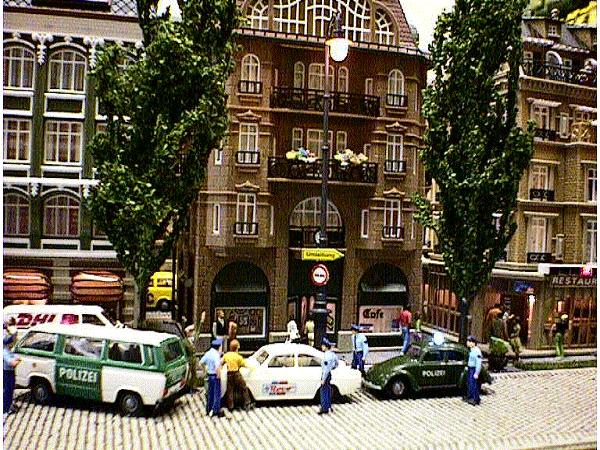 Scene from our Store Layout using Vollmer buildings.
Click HERE to display Vollmer Complete
Click HERE to display Categories from Buildings and structures

This is your best shot to find stuff by selecting Category and Manufacturer you like

Vollmer HO Stations Platforms items
Vollmer HO Good sheds items
Vollmer HO Business

Vollmer HO portals, tunnels, ramps, bridges, etc.

Vollmer Fences, Street film, etc

Vollmer outdoors, Country Houses, Villas, on the Road, Town Houses

Click HERE to display Vollmer in numeric order
History of the Vollmer Company...
and a Portrait of Wolfram Vollmer
Like a lot of medium-sized companies the history of the Vollmer Company is neatly tied to the founder, Wolfram Vollmer.
He was born 1924. After School, an apprenticeship, a study as an optician and the individual planning of a young man ? as so many others at that time - was interrupted by World War II.
As a soldier he was wounded and put into captivity. With his return back home, the Vollmer Company was founded with entrepreneurial courage. The young enterprise produced just those things, which were needed the most at that time, e.g. metal collar buttons.
After the currency reform, everything changed, also the demand. Plastic collar buttons were requested and so the switch to plastic injection technology was the future orientation for Vollmer.
The Entr?e into model railway accessory business was made in 1948. One year later, on the Nuremberg Toy Fair Vollmer introduces a patented catenary system for model toy trains, H0 gauge. Shortly after that, the first model houses were produced.
Additional to that, industrial goods production began. Until today Vollmer is manufacturing high precision parts for all kind of industries.
The number of articles, of personnel and sales are growing, soon new buildings are necessary.

The guidelines for all these years
products of highest quality
customer orientation
esteem of employees
environmental protection
are still valid until this very day.

Timeline
1946 The company was found
1949 Visit of the first Toy Fair in Nuremberg, presentation of the patented catenary
1954 Production of Model Railway Accessories - 13 articles
1956 first IBM EDP machine; the first company building was built
1973 enlargement and new buildings were built
1980-1988 Market introduction of Patrizierhouses, romantic series, with interior decoration and lighting included; big city houses as well as the Vollmer Black Forest Hospital.
1992 Introduction of CAD/CAM in the construction and mould making departments
1995 Third price at the county contest for women and family oriented companies
2000 Quality Management is officially introduced: first certification after VDA 6.1; Millennium
2002 Introduction of the Euro
2004 Reorganization of office organization and EDP-System
2005 Presentation of Pope Benedikt XVI Birth Place
2006 First time in the Vollmer Company?s history, the 60th Company?s anniversary is celebrated with two open factory days
2008 Vollmer offers about 1000 articles for model railway
The number of articles, of personnel and sales are growing. Soon new buildings are necessary.
Today the Vollmer company is a modern and future oriented company, which produces at Stuttgart-Zuffenhausen about 1000 articles.