Please check HERE the list of delayed USPS parcels
Shipping Update
From the USPS Master we received this notice:
Mail processing STILL delayed.   PANDEMIC= increased on-line ordering; C-19 related staffing
I am  very sorry to inform you that we do not have any updates on your package right now as  our mail processing plants have been experiencing  delays and your package is showing as still in transit to OR waiting to be sorted  @ our Philadelphia processing  plant.    Our plants are currently  processing  mail and packages mailed out  at the very end  of December and throughout the months of January and February.  While some parcels  have been getting through, it is a moderate amount due to staffing issues brought on by the pandemic. In addition, an unprecedented increase in the  volume of packages that have been mailed during the pandemic. has also created delays and we are still trying to catch up.   We apologize for you having to experience this issue and we  have been asked to notify our  customers that mail  may  be delayed an additional 1 to 4 weeks or possibly longer, from today. (03/25/2021)
We are  sorry for you having to experience this issue.    Thank you for your patience.
Sincerely,
Shelley Shaheen
Supervisor, Customer Service
Bala Cynwyd Post Office
610-667-8035
File a claim @ usps.com; click on the HELP tab.
FUTHERMORE:
We are also experiencing product delivery delays from our vendors. As a result, we may be out-of-stock temporarily on some products. Rest assured we will work to get back-in-stock as quickly as possible.
Freight rates: Airlines have increased their rates from 1.40 Euros per kilo/dimension to 5.90 Euros kilo/dimension. This has affected our lower prices with an increase in cost of about 30%. We have adjusted our prices to a minimum markup trying to still have the lowest price possible for you. Please understand that on some instances, preorders must be adjusted to new prices when increase surpasses a 10% in our cost.
We have re-open pick-up at Store. Place your order on our web site and check mark "Pickup at Store" on the checkout page. No shipping charges will be applied to the order and can pickup your order in the Store. This is the fastest way to buy from us in Miami area.
Links for Marklin & Trix new items 2021 below
Give a Store Gift Certificate to your Family or Friends HERE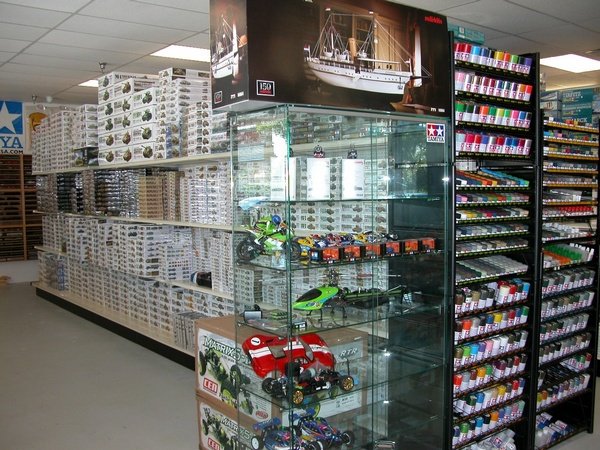 The largest Marklin Trains & Trix Minitrix Direct Importer/exporter Worldwide.
Tamiya Authorized Distributor in USA & Latin America & Kyosho Authorized.
Micro Macro Mundo Inc.
(The European Model Trains Headquarters).
Founded in 1986 in Miami Florida U.S.A. presents:
---
The World best collection of products for your Hobby in Model Trains, Static plastic & wooden models, Radio control Airplanes, RC Helicopters, RC Boats, RC Cars, RC Trucks, RC Motorcycles & accessories, spare parts and much more at wholesale prices.
See this incredible video. All what you see can be found in our Store:
Now Special offers inside our shopping cart: Look for high discounts on many items and Brands such as BRAWA at 40%, way below cost. Many items highly discounted.
Vollmer is back under Viessmann ownership. Viessmann Modellspielwaren GmbH has bought the rights to produce these incredible well done products keeping the Vollmer Brand and quality. Check our site for Vollmer.
Now we offer Bachmann trains, Kato, Classic Models, TrucksNstuff, Woodland Scenics, Brekina, Bush and some busses, trucks and cars from many Manufacturers of high quality.
Our Best Special Offers
Every single item in this layout can be bought in our Store. It depicts products from Marklin, Faller, Vollmer, Viessmann, Faller car system, Preiser and many others to make these great scenes.
Video belongs to Pilentium Television in Germany published in Youtube, a must see.
Visit our Videos page to see some good videos and take ideas with our products
See brochures for new items 2017below.

Marklin New items 2017 brochure HERE
Trix/MiniTrix New items 2017 brochure HERE
LGB New items 2017 brochure HERE
Faller New items 2017 brochure HERE
Viessmann New items 2017 brochure HERE
Vollmer New items 2017 brochure HERE
Kibri New items 2017 brochure HERE
Kibri New items 2017 brochure HERE
Preiser New items 2017 brochure HERE


By clicking on pictures or underlined words will take you to detailed or particular pages.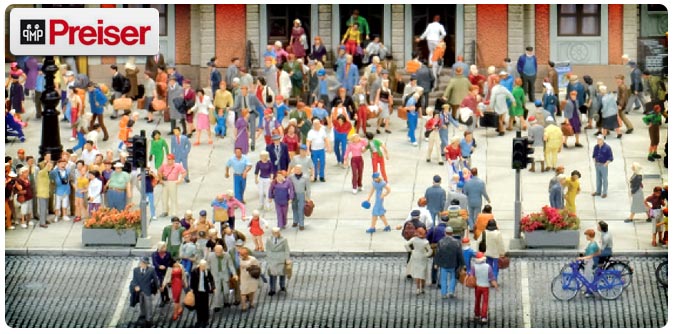 Preiser Hand painted models
and now MERTEN a Preiser Company with new HO figures of high quality at very low price




One of the best models by HASEGAWA. We bring those Limited and Special editions as well as the complete product line of ships and Airplanes, civil and warplanes.
European model trains Brands include Marklin trains, Trix trains, Minitrix trains, LGB, Roco, Fleischmann, and the best accessories, buildings, struct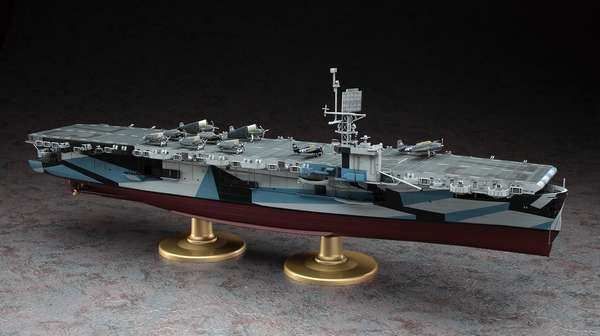 ures and model figures made by Preiser, Merten, Vollmer kits, Faller kits, POLA, Kibri, Viessmann catenaries & Viessmann signals and hundred's of HO die-cast vehicles.
American prototypes from Waltehrs, Proto-2000, Bachmann, Kato and many others
Electric locomotives, Steam locomotives and diesel locomotives plus hundred's of rolling cars, passenger or freight from many railroad lines across Europe and North America are available.
Radio control Brands include: Kyosho, Tamiya,
Static plastic models of sport cars, trucks, airplanes, ships, submarines, motorcycles, etc. by Tamiya, Revell, Trumpeter and Italeri (a Faller owned Company) in a very large selection.
Other products include Radio control RC radio systems from Futaba, OS Nitro Engines, Forces of Valor die cast metal war tanks, all sort of accessories and hop-ups.
The unique collection of wooden tall ships, wooden ships by Artesania Latina and Constructo. makes us one of the most complete Hobby Stores and direct Internet seller in the World.
We invite you to visit and spend some time in this amazing web site with several thousands of pages, movies and many things that will keep you busy for a while. Please give us your
feedback
or suggest whatever you think will improve this site.
These products are not just toys but real replicas at scale of the real thing. Buildings and structures by Faller Kibri and Vollmer are scale models of real places you can find across Europe. In the form of Kits to be assembled contain all you need and no paint is required, just place them on your layout and build the City of your dreams. Vollmer now available to Toy Stores and Dealers at Dealer cost.
Electronics and Digital components made by Marklin, Viessmann, Brawa or Trix can be found as well as the best street lighting, cable cars, ski chair lifts, lighted vehicles and flashing fire trucks & police vehicles, railroad crossing barriers and hundreds of other products including catenary systems for HO, N and Z gauge scales. The new Viessmann catenary system is also found .
Preiser Figures and Merten, the largest and most exquisite collection of model figures of Humans and animals, hand painted highly detailed, including vehicles and scenes for your layout or diorama including models for Architects made by Preiser. We are proud to be the # 1 seller of Preiser and Merten figures in USA. Preiser also includes a large selection of accessories and vehicles. Now available to Dealers and Toy Stores, call for info.

The royal gauge, Marklin 1 gauge, is also available including track and accessories plus Marklin Maxi locomotives and cars.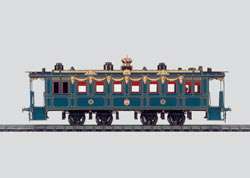 Tamiya and Revell Static models include Sport cars, Trucks, Military tanks, military vehicles & figures for your diorama, war airplanes, Commercial airplanes, helicopters, war ships, Sail ships, Commercial ships, finished exclusive collector items and many others made by Tamiya and Revell Japan/Germany.
Trumpeter, Hasegawa, Italeri are now new lines on our product database, check them out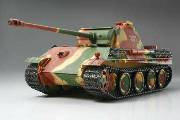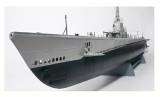 RC trucks, sail yachts, military tanks, completes our collection from Tamiya, Kyosho,
Clicking on pictures, takes you to pages.
For those that like to build tall sail ships and wood ship replicas, we offer our exclusive collection of kits in wood from Artesania Latina and Constructo, the two major Spanish Factories for wood models Worldwide recognized, with complete and easy to follow instructions, brass gears and real wood from the finest quality of trees available, laser cut for perfect assembly, sails and rigging, etc.
We also offer as well finished models made by our own artisans, hand made from scratch but following the most strict rules and blue prints from the real ships. These models are unique, one of kind and not made from kits.
You will find in our web site the largest collection available in just one place in the United Sates of North America ready to be shipped the same day you place your order with us and at the lowest price.
We invite you to enter this site with over 65.000 web pages and over 123.000 internal links and browse for that particular items you need for your Layout or Diorama.
For search engines indexing this site:
Brands we carry are Marklin, Marklin trains, Marklin locomotives, Marklin train sets, Marklin track and accessories; Trix in HO and N gauges Trix trains, and Minitrix trains; 4MFOR military metal models, Brawa trains and accessories, Fleischmann trains and accessories in HO and N gauge; steam locomotives diesel locomotives electric locomotives in HO and N gauge; accessories for layouts dioramas and train setups including lamps street lights buildings trees and electronics; Preiser figures hand painted and unpainted Preiser accessories cars wagons and kits for scales HO, N, 1, LGB and Z gauge; special Brands such as Faller and Vollmer include complete line of structures bridges buildings houses and many other elements for your diorama or layout in scales HO n and Z.
In Radio Control RC or R/C we carry the most popular Brands such as Kyosho Tamiya OFNA Racing CEN Racing Traxxas HPI HotBodies Hobbico Helimax and others that include RC cars, RC trucks, RC airplanes and RC helicopters, r/c motorcycles, boats yachts and special snow vehicles; radios systems from Futaba from 2 channels up to 9 channels for cars, trucks and air products, Futaba servos for all uses and special ESC for Kyosho motorcycles. From the famous Inferno series now also available in 1/16 scale Half 8. GT series in 1/8 with the largest and fastest motors on the Industry, stadium forces starting at RC motors .05 up to .28; OS engines available for Airplanes
In the static World, Tamiya number 1 Worldwide with its Sport cars, motorcycles, military 1/35 series now increased to 1/48 scale and the ready made collection MASTERWORKS, war ships, war airplanes, paints and accessories plus selected REVELL tall ships and special items from Revell Germany is only a small part on what is available in our Store.
Wood ships made by Artesania Latina and Constructo, the best quality wood kits and the perfect reproduction of long time gone tall ships that crossed the seas in battles such as Trafalgar and many others, persecuting pirates and defending their flags, plus merchant ships that were the beginning of the actual merchant float and the most renamed Military school ships and flagships for USA and other European Countries.

We accept

To Product SEARCH ENGINE and SHOPPING CART
with questions or comments about this web site.

A referral for Micro Macro Mundo Inc.

7564 S.W. 117th. Ave.
Miami Florida 33183
U.S.A.
PH: 305-279-8033
FX: 305-279-0195
Store Hours:
Monday to Friday:
Nov. 06 to Mar 12
10 am to 6 PM
Mar 13 to Nov. 07
11 am to 7 PM (DST)

Saturdays:
10 am to 3 PM all year long
Sunday Closed
Again

Marklin Outstanding Achievement
Award 13 years in a row
Marklin/Trix Authorized Service Center.